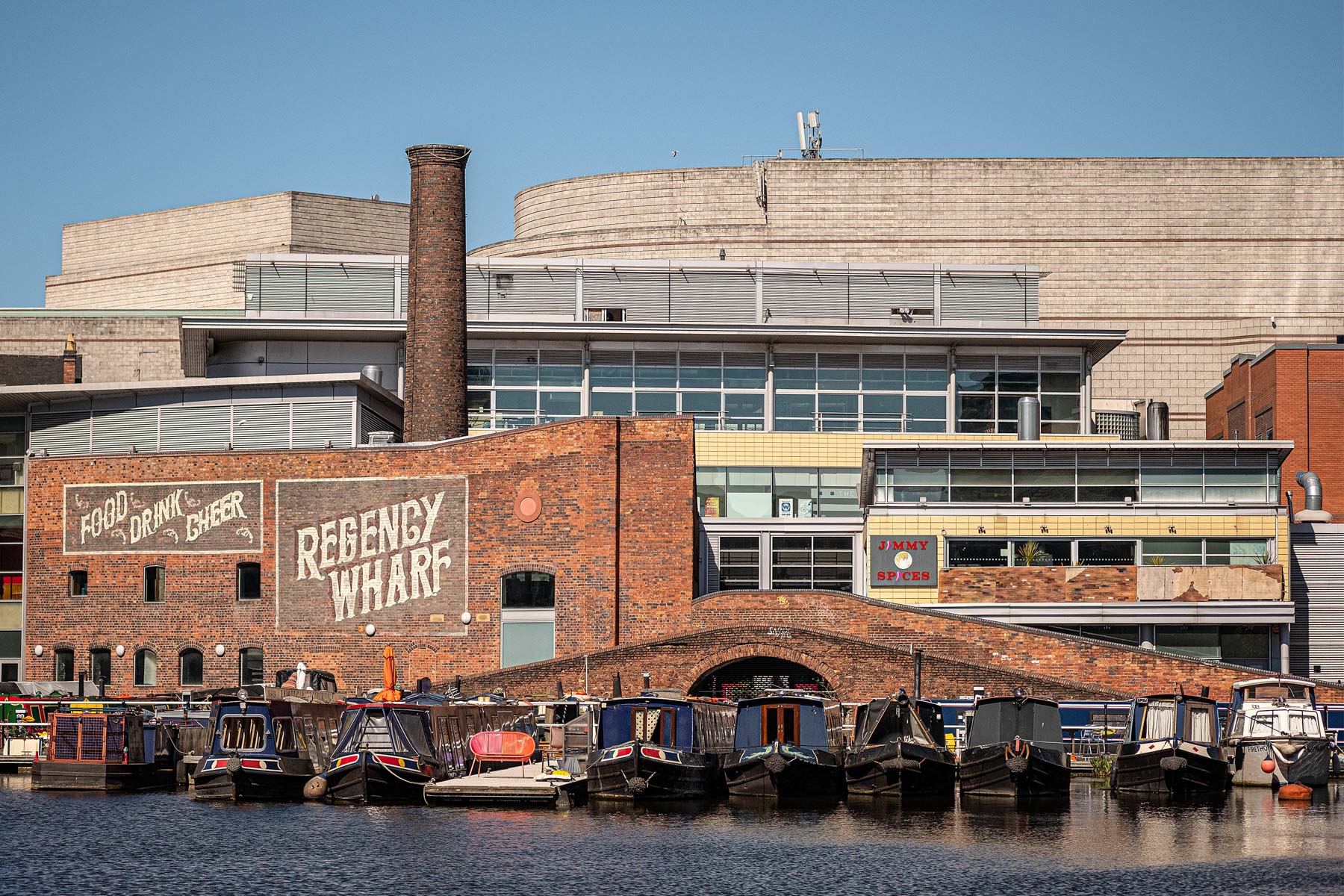 -Things to Do in Birmingham, England-
If you're looking for things to do in Birmingham then you're in the right place! Birmingham is a must-visit location and one of the best cities in the UK. Birmingham is also known as 'Brum' and 'Second City', the latter being because it's the second-largest city in the UK, after London.
Living in the middle of nowhere in Shropshire, Birmingham is often our go-to place for things to do. It's a place to soak up some atmosphere, enjoy a night out and a place where there's always something new to discover. Birmingham has a bit of everything and there are plenty of things to do to keep you occupied, whether it's your first time visiting or you're a regular to the city.
And one of the best things about Birmingham is that the city centre is relatively small, despite the huge area the city covers as a whole, so it's also a great place to explore if you're short on time. Everything on our list of things to do in Birmingham is within walking distance from Birmingham New Street train station, with a maximum walking time of roughly 25 minutes, which is the far edge of the Jewellery Quarter.
If this is your first time visiting, this list of things to do in Birmingham will help you plan your day to get you around to see the best parts of this wonderful city. And if you're a regular, maybe you'll discover something new on this list, or you think we've missed something, so please let us know in the comments below – we'll be sure to check it out! Without further ado, here's our list of things to do in Birmingham!
Things to Do in Birmingham
1 | Visit Digbeth
Digbeth needs to rank highly on your list of things to do in Birmingham if you're a cool kid. Undoubtedly, it's Birmingham's coolest district. You'll find all sorts of things to see and do in Digbeth, like admiring all the brilliant graffiti, the Bird's Custard Factory, go-karting and number 2 on our list of things to do in Birmingham – the Red Brick Market.
Not only is Digbeth cool during the day, but it also comes alive at night with plenty of places to eat and drink, like Luna Springs. Digbeth is a one-stop shop for a slice of modern Birmingham and that makes it one of the best things to do in Birmingham and somewhere you can't miss.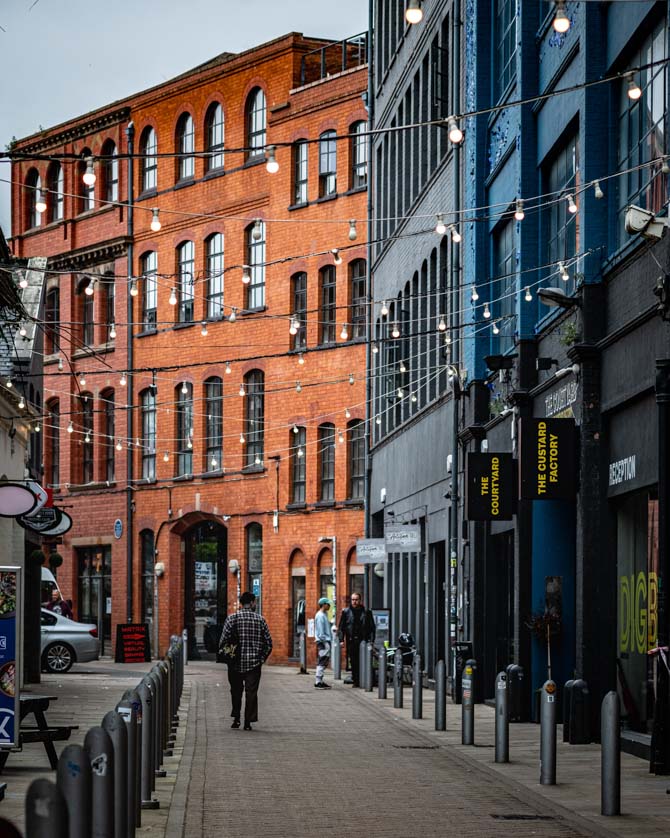 2 | Visit the Red Brick Market
Perusing the Red Brick Market is one of our favourite things to do in Birmingham. Here's the concept – walk around, pick up what you want to buy from the independent stalls around the market, and take them to the front desk to pay. It's a good concept and the market is full of weird and wonderful things, from second-hand clothing to plants and all sorts in between. You'll get lost in the maze of alleys inside the market and wonder which ones you've walked down.
There's also a vending machine at the entrance where you can take a gamble on what you get. It'll cost you a few quid but it might bring back some nostalgia. We ended up with a 90s nostalgia surprise bag containing a pair of Simpson's socks popping candy and a quiz game card. And if you fancy a coffee, Red Brick Market has its own cafe inside.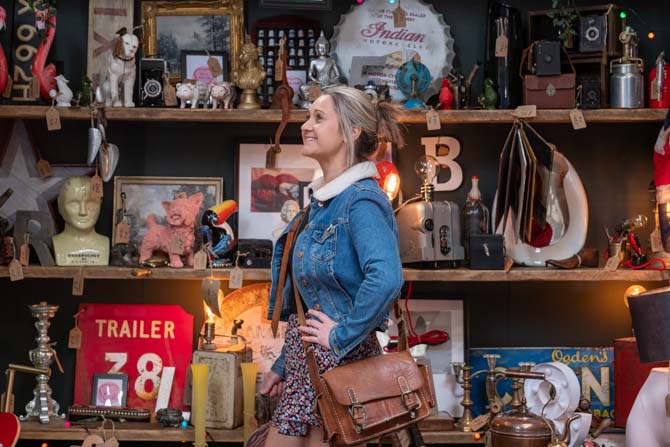 3 | Eat Lunch at Victoria Square
Victoria Square is like the epicentre of Birmingham city centre because it lies in a great spot to access Birmingham's best bits. And if you're into people-watching, Victoria Square is the place to be, so grab your lunch and take a pew to enjoy one of Birmingham's best squares. It's also home to some amazing architecture in the form of Birmingham City Council, Birmingham Town Hall and Victoria Square House (which is the Post Office!).
You'll also find The River, which is an art installation and fountain. The River is better known as 'The Floozie in the Jacuzzi' and has become an icon of the city. According to birmingham.gov.uk, it's one of the largest fountains in Europe with a flow of 3,000 gallons a minute! Victoria Square is also where you will find stuff like the Christmas Market and craft fair when they are on. It's a place you will always find a bit of life and it's pretty hard to miss!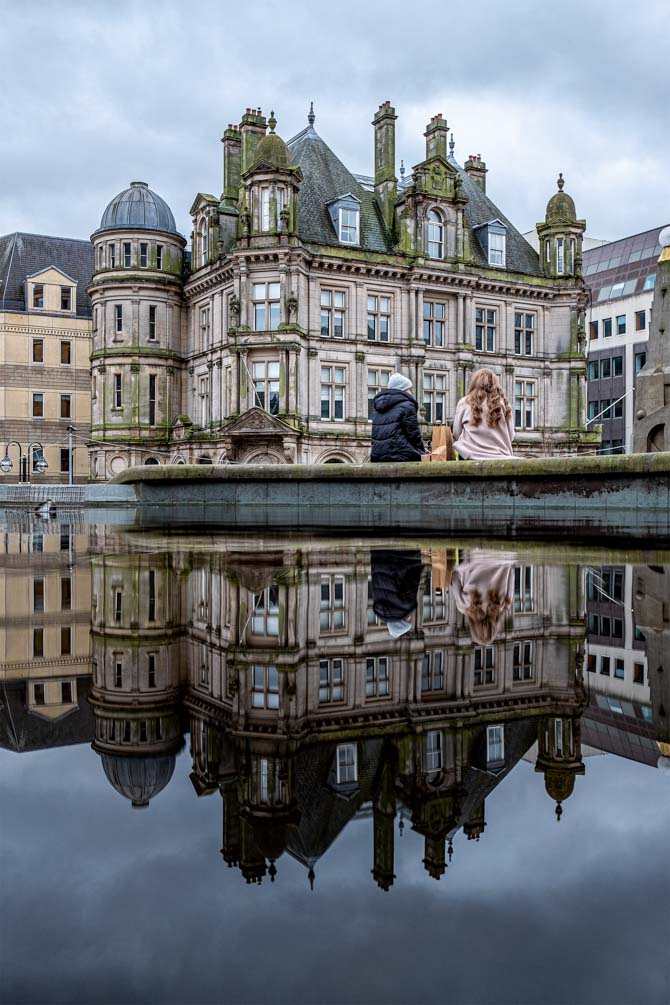 4 | Visit Oozells Square & Ikon Gallery
Oozells Square is a bit of a hidden gem of Birmingham and if you weren't heading for the Ikon Gallery, it's entirely possible you would walk right on by. But now you know it's there, take a wander in to visit. If you're into art, you'll want to visit Ikon Gallery and if you're not, simply admire the beauty of the building itself. Ikon Gallery is an internationally acclaimed contemporary art venue and it's free to enter!
There's also a cafe and a great little gift shop. It's not huge, either, so you won't spend a great deal of time in there when there's so much else to see and do in Birmingham. But the best bit about Oozells Square is not the Ikon Gallery, nor the building it resides in, but the blossom trees that bloom for only a week or two every year. We visited at the very end of March and they were in bloom. Don't they look amazing?!
For more information on Ikon Gallery, click here.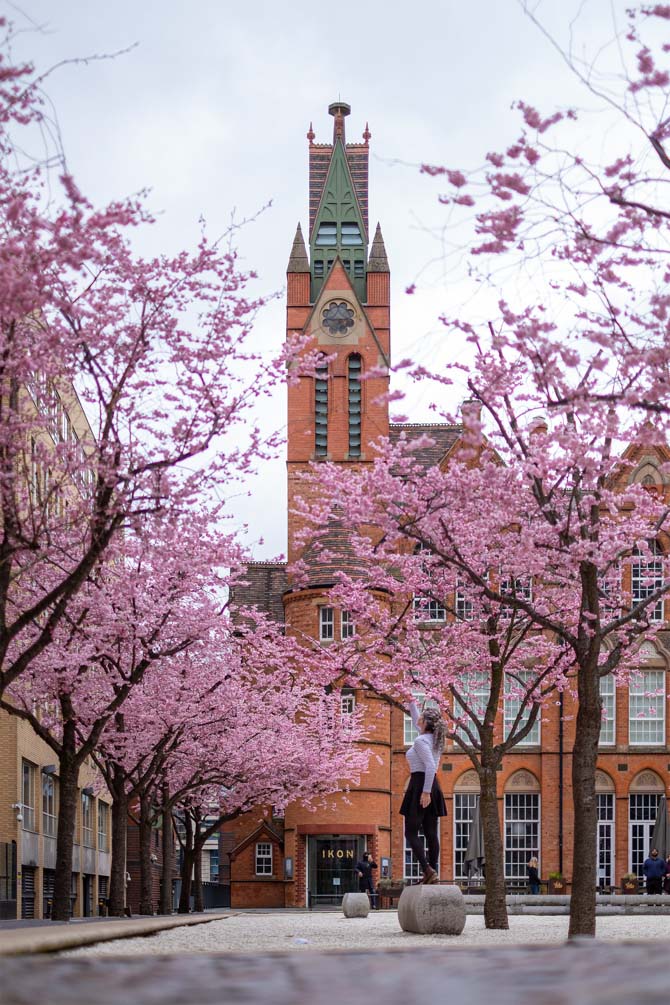 5 | Visit Birmingham Museum and Art Gallery
Next up on our list of things to do in Birmingham is the Birmingham Museum and Art Gallery. Yes, another art gallery, although it's a bit different to Ikon. Housed in a Grade II* listed landmark building, the Birmingham Museum & Art Gallery opened in 1885 and is full of displays about Birmingham-related stuff and not contemporary art. There's also a cool Edwardian tearoom, gift shop and spaces you can get your laptop out and do some work if that's your thing! The Birmingham Museum & Art Gallery is also free, so get yourself in there!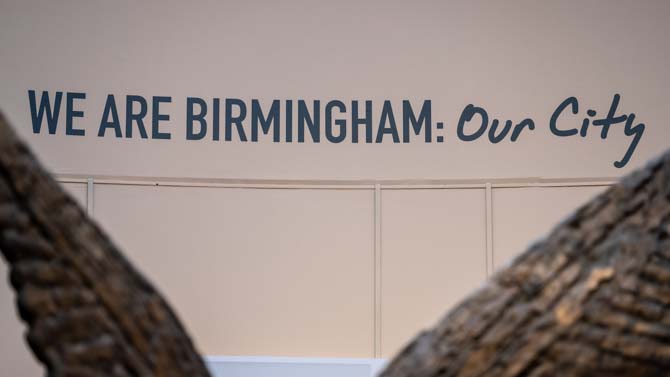 6 | Visit Centenary Square
Centenary Square is the cultural heart of the city and another of Birmingham's great squares, filled with atmosphere and some of the best buildings in the city and that's why it should be on your list of things to do in Birmingham. Much like Victoria Square, it's pretty hard to miss Centenary Square because you're likely to pass it if you're following our guide. It's also the gateway to Gas Street Basin and the lively part of the canal network.
The highlights of Centenary Square include Symphony Hall, The ICC, Birmingham Repertory Theatre, The Library of Birmingham, Baskerville House, Hall of Memory and of course, the fountains.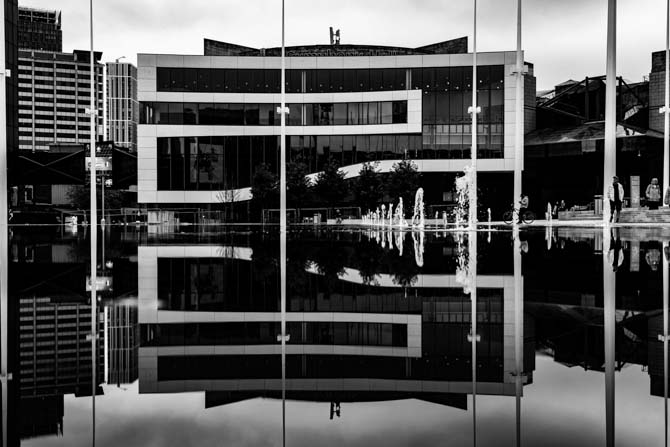 7 | Read a Book at The Library of Birmingham
Much like Selfridges is an iconic building of Birmingham, the library is another and if there is one building in Centenary Square t walk into, it's this one. Birmingham Library is more than just a library. The library spans 10 levels, shares a 300-person theatre with the Birmingham Repertory Theatre, and has two outdoor garden terraces, children's spaces and a viewing gallery for panoramic views of Birmingham from one of the highest points in the city. There's also a cool shop in The Library of Birmingham. It's full of Birmingham-related stuff, so if you're after a moment of your visit to Brum, this could be the place to buy it!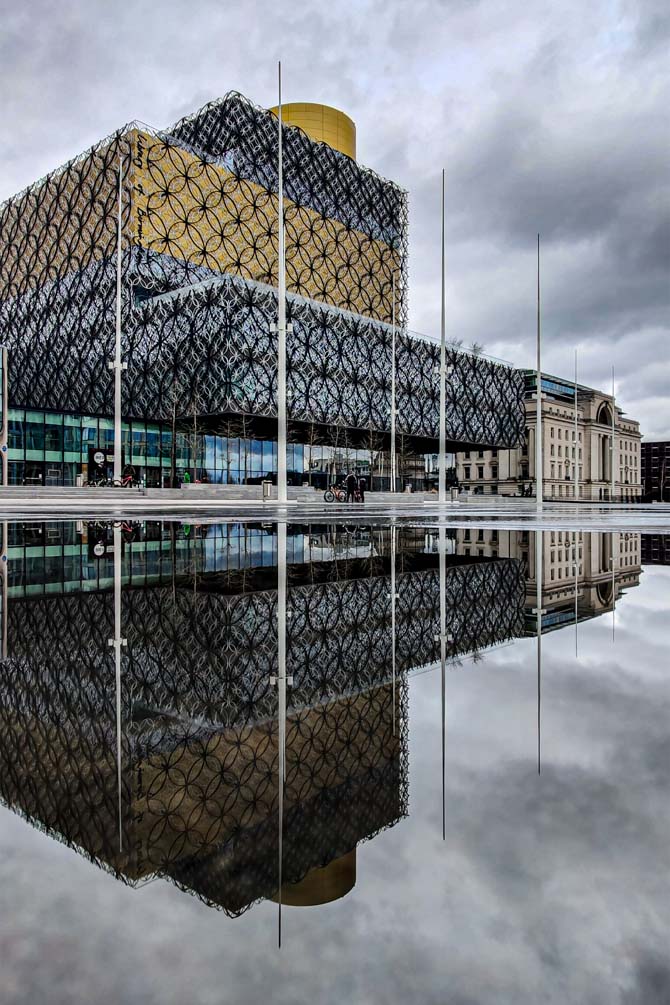 8 | Visit Roundhouse
Roundhouse is the other National Trust property in Birmingham and is a Grade II* listed building that was a former 19th-century stable and store, located on the side of Birmingham Canal Old Line. It's a curious horseshoe-shaped building that's a survivor of Victorian Birmingham which has been lovingly restored by the National Trust and Canal & River Trust, thanks to grants from the National Lottery Heritage Fund and Historic England.
Roundhouse is free for everyone to enter and to explore the Visitor Centre and Display Space. There's also a little shop where you can buy some cool stuff, like badges with the smiley faces of the logo (which you will also find on the bollards on the canal side as you approach Roundhouse!). You can also pay for guided tours to explore Birmingham by foot, bike or water (by kayak, stand-up paddleboard or boat) if you fancy getting on the famous waterways of Brum.
To find out more about Roundhouse, click here and if you fancy a beer once you've finished at the Roundhouse, head next door to The Distillery. It's a cool gin distillery and bar with a courtyard on the canal side.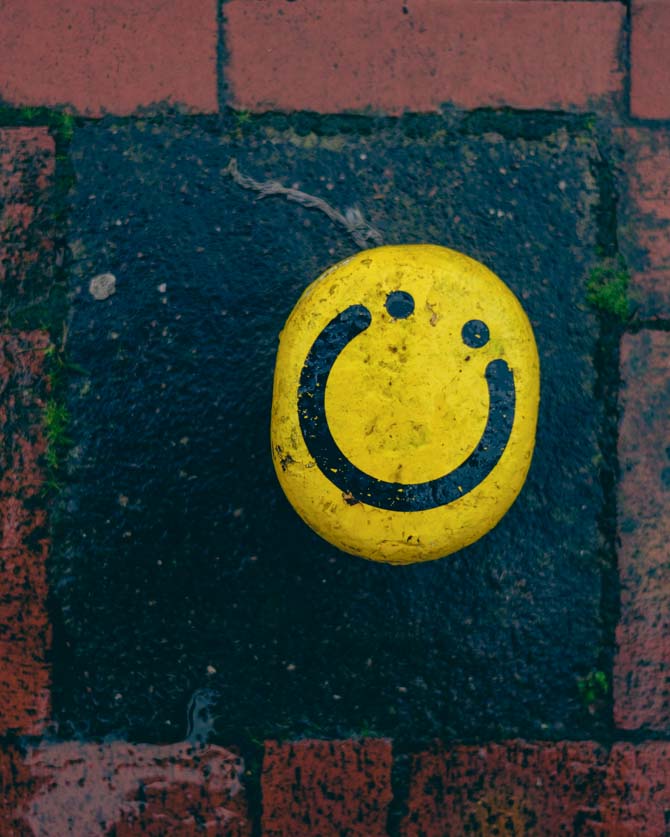 9 | Explore Gas Street Basin & the Canals
Birmingham is perhaps most famous for its network of canals. Once the lifeline of logistics, now a network almost used exclusively for recreation, a visit to Birmingham wouldn't be complete without a wander along a canal.
Interestingly, Birmingham is often compared to Venice when it comes to its canal network. I don't know how many times I've heard 'Birmingham has more miles of canals than Venice' but it turns out it's true. Birmingham has 35 miles of canals, compared to Venice's 26. But that's not the end of the story. Birmingham is far larger than Venice, so the concentration of canals in Venice is higher than that of Birmingham. Anyway, back to the Birmingham canal network…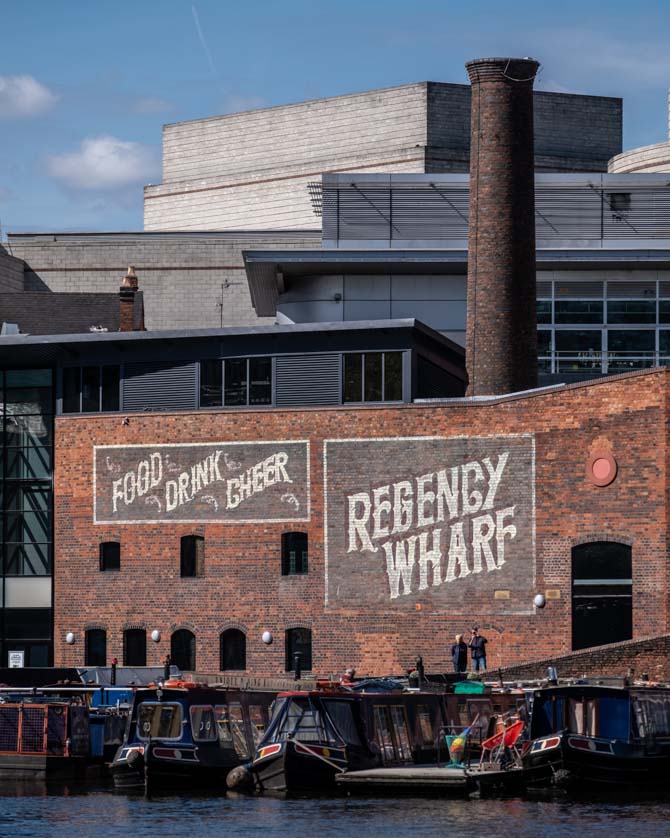 You can't miss Gas Street Basin, the epicentre of the Birmingham canal network. You can even take a trip on a canal boat, explore the network by kayak or by hiring a boat. You might even find a canal boat selling some fudge but whatever you get up to, you'll be sure to enjoy your time around Gas Street Basin.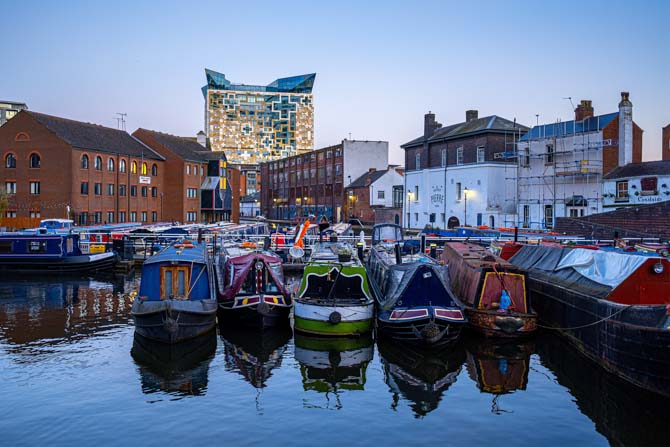 10 | Visit the Jewellery Quarter
If you're into jewellery, then visiting the Jewellery Quarter needs to be high on your list of things to do in Birmingham. The Jewellery Quarter is the UK's home for jewellery and it's claimed there are over 800 businesses, 100 Specialist Retailers and 50 Contemporary Designer Makers operating in the district. Even if jewellery isn't your thing, the Jewellery Quarter is still worth a visit for its history and you'll find somewhere to get a decent bit of grub and a pint with over 80 bars and restaurants in the area.
According to English Heritage, "Birmingham's Jewellery Quarter is a national treasure. It contains the best and most extensive surviving group of Victorian and 20th-century buildings devoted to the manufacture of jewellery and similar small goods in Europe, a place of unique character."
Did you know? The FA Cup and Captain's whistle from the Titanic were produced in Birmingham's Jewellery Quarter. The area has been producing jewellery for over 250 years and still produces 40% of the UK's jewellery. If museums are your thing, the Jewellery Quarter is home to the Pen Museum and Museum of the Jewellery Quarter.
11 | Enjoy a Night Out
A night out in Birmingham is one of the fun things to do in Birmingham for adults. The nightlife in Brum is up there with the likes of Manchester and Liverpool and there are some great spots around the city to enjoy your favourite tipple.
If you like an ale, head to the Post Office Vaults, off Pinfold Street. It's an underground pub with one of the best selections of ales in the city. If gin is your thing, head to The Distillery, near Roundhouse and if you'd like to have a drink in one of the finest establishments in the city, head to The Old Joint Stock Pub & Theatre by Cathedral Square.
12 | Shoot Some Photography
If you're into photography, make this one of your things to do in Birmingham. It's the perfect place to get your camera out. From the street art of Digbeth to the canals surrounding Gas Street Basin and superb architecture in between, there's something to satisfy all your travel photography needs. Highlights to photograph in Birmingham include Digbeth, Pinfold Street, Gas Street Basin, and Selfridges, to name a few.
And if you're after some travel photography tips, click here for our comprehensive guide to take better travel photos and check out our travel photography gear guide.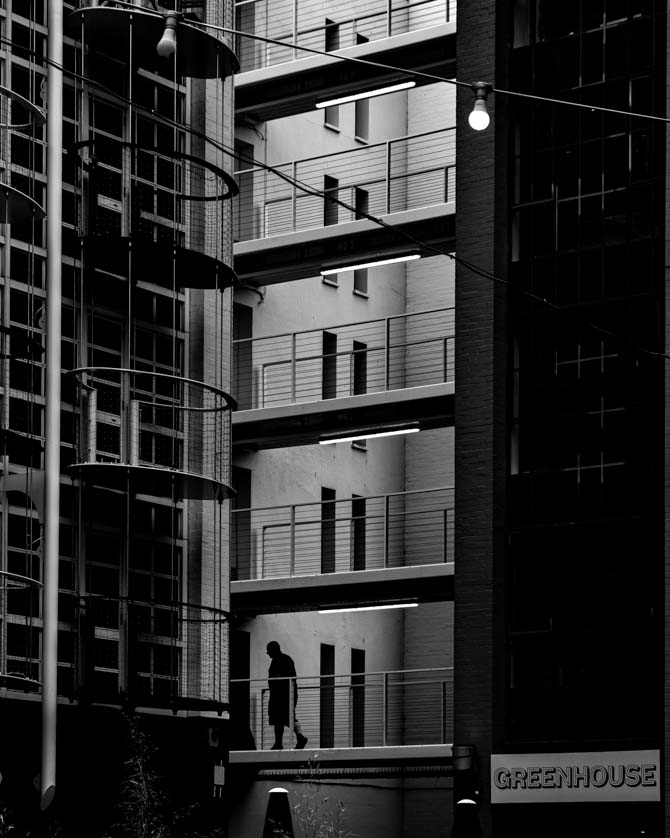 13 | Go Shopping
Shopping isn't really my (Joel's) thing, but it definitely is Stacey's…although she would probably deny that! Ha! Birmingham has the accolade of the world's largest Greggs cafe, located inside a massive Primark. It must also have been the first Greggs in a Primark?
But Birmingham isn't famous for Greggs or Primark, it's famous for the Bullring & Grand Central shopping centre and the iconic architecture of Selfridges, with its space-age design. Since the 12th century, the Bullring has been at the heart of Birmingham's commercial centre and claims to have the largest city-centre shopping destination in the United Kingdom. Do you know why the Bullring is called the Bullring? The name derives from its history of bull-baiting and slaughter. If you didn't know, bull-baiting is the practice of setting dogs to harass a bull and was a popular form of entertainment in medieval times. Thankfully, we don't live in medical times and the only surviving element is the name; Bullring.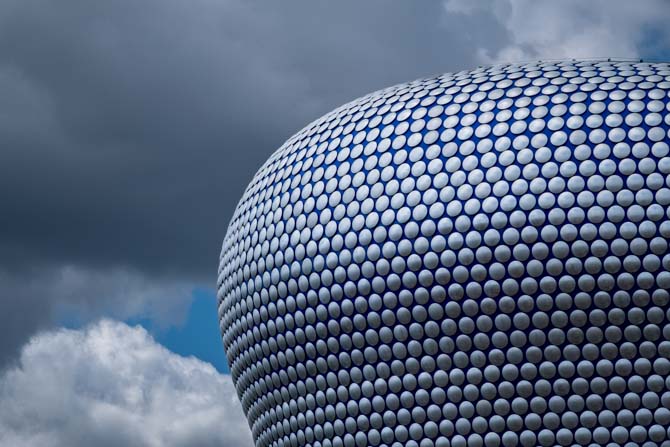 14 | Visit the Birmingham Back to Backs
If you're a National Trust holder, this one is for you. It's one of only two National Trust properties in Birmingham and is the city's last surviving court of back-to-back houses. If you don't know what a back-to-back house is, they were houses built back-to-back, surrounding a communal courtyard, something we don't see these days.
You can step back in time and learn all about life in and around the courtyard from the 1840s to the 1970s and discover what the lives of some of the former residents who lived in these very houses were like. Visits to the Birmingham Back-to-Backs are by guided tour only. You can book your tour here and you can learn more about the Birmingham Back to Backs with the National Trust by clicking here.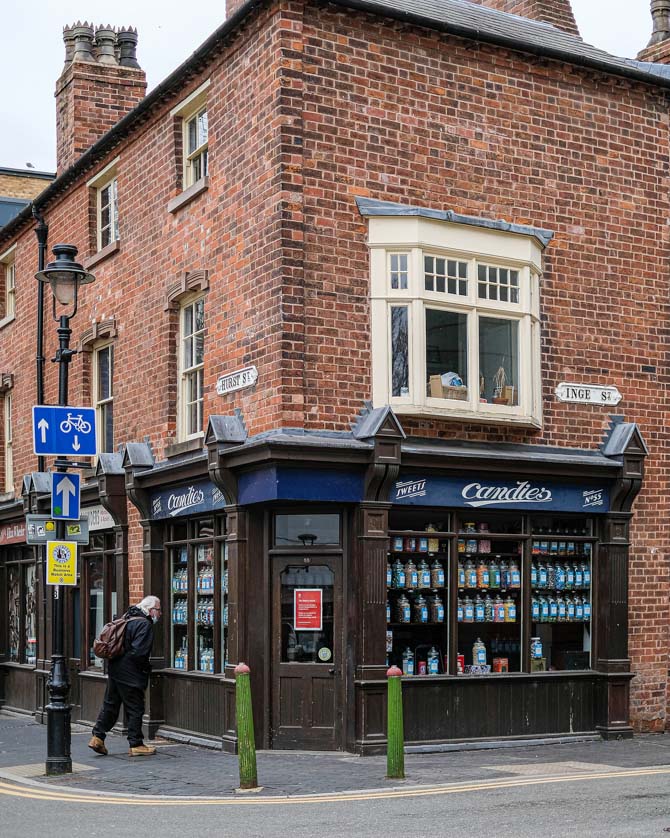 15 | Visit Yorks Cafe & Coffee Roasters
If you're after coffee and a bite to eat, the Yorks Cafe & Coffee Roasters is the place to go. It's in a bit of an odd location – central, but slightly off the beaten track. If you didn't know it was there, you'd potentially never even stumble upon it. The building is cool, the coffee tasty, the food mega and the view out of the front is one of the best in Birmingham – looking straight up Pinfold Street, towards Victoria Square.
As it happens, the cafe in Ikon Gallery is part of the Yorks Cafe family, too!
For more information on the Yorks Cafe, click here.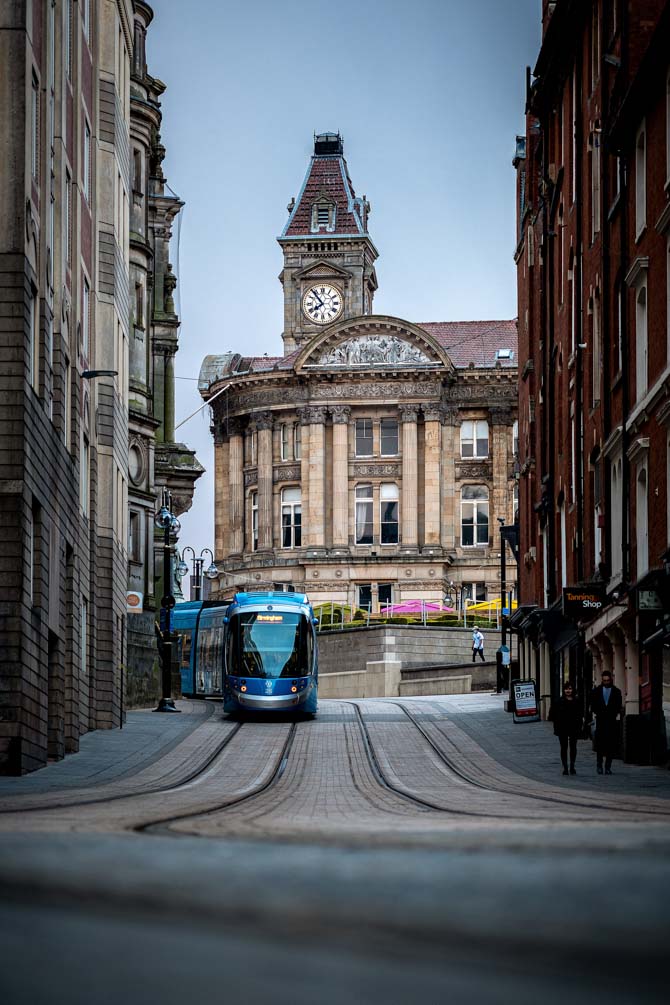 16 | Go In Search of the Red Lamp
That's correct, there's a massive red lamp in Birmingham…and it even lights up at night! You'll find it around the back of Mailbox. Mailbox is an icon building of Birmingham that's home to some big names, such as the BBC. It's also home to Medicine, which is one of the best cafes you will ever visit! They do some mean vegan stuff too if that's your thing. Anyway, back to the lamp – it's out the back on Severn Street. Unless you knew it was there, you may never stumble upon it! So get your camera out and get some snaps!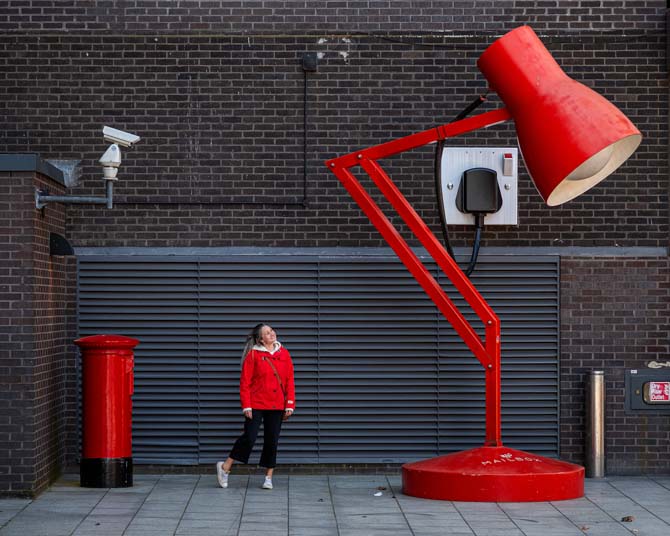 17 | Visit the Meat Market
There's a reason this one is last on our list of things to do in Birmingham and that's because it's not for the faint-hearted! If you're a vegan or vegetarian, this place is best avoided. For the rest of you, this place is an experience, unlike anything you may have experienced at a market before! The official name for the meat market is the Bull Ring Indoor Market. That's because it doesn't just sell meat. There are other things for sale there but they aren't the things that will catch your eye.
When you walk through the doors you will be hit by the smell. The first time we visited we were shocked by what is available to buy. There isn't a part of an animal you can't buy here. But we didn't visit for the meat, we passed through because we love markets. Each one is a bit different. Or, in this case, very different, from the ones we are used to! This one reminded us of our trip to Athens where there was a similar market.
The Bull Ring Indoor Market is part of the Bullring Markets which is a trio of culturally diverse markets (Indoor Market, Rag Market & Open Market) that are lively and interesting.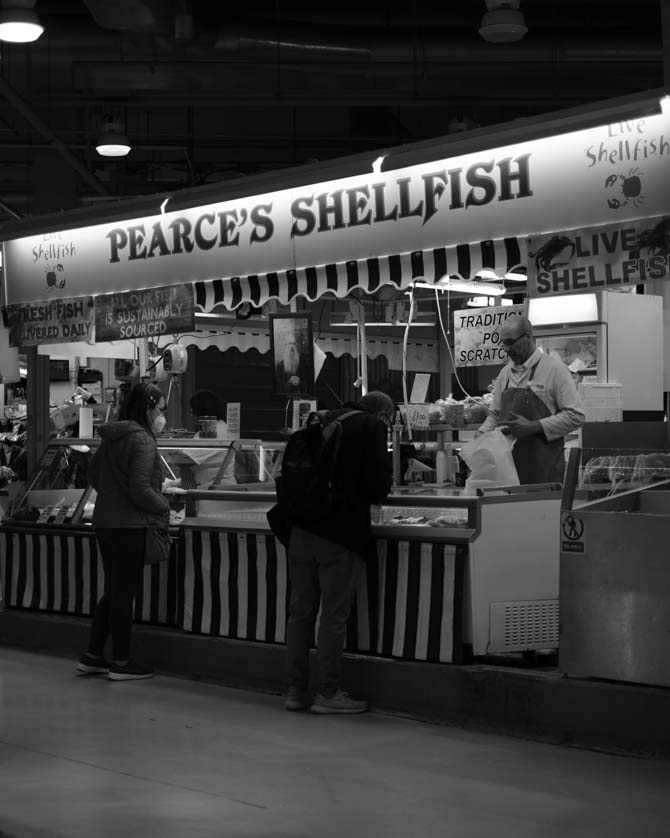 18 | Play an Escape Room
Escape rooms are a favourite of The Bumper Crew. We've played them all over the place and try to squeeze one in during our city breaks. Thankfully, Birmingham has a few escape rooms to choose from. We opted to play Sherlock's Secret at Escape Now in Digbeth and it was HARD! We usually play alone but played with friends of ours and still struggled. Ha! Sherlock's Secret was only the second room we haven't escaped from but we were so close (they even gave us an extra five minutes 😉).
How to Get to Birmingham
Train – if you're arriving by train, it's likely you will arrive in Grand Central, which is ideally located right in the city centre, just a few metres from the high street.
Coach – Birmingham Coach Station is just a ten-minute walk from the city centre, but it's conveniently located for Digbeth.
Road – If you're travelling to Birmingham by car be aware of the Low Emissions Zone. There are tons of car parks around Digbeth and the rest of the city. Check out Parkopedia Birmingham for up-to-date prices and locations.
Tram – Birmingham is one of less than ten cities in the UK with a tram network. Click here for more information on the Birmingham tram network.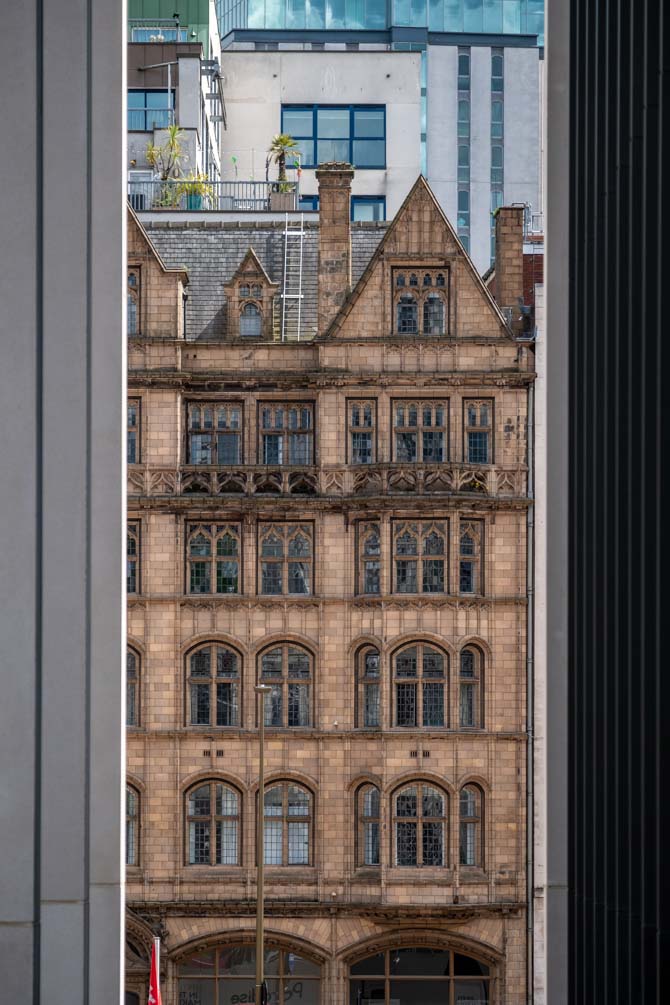 The Best Things to Do in Birmingham:
Visit Digbeth
Visit the Red Brick Market
Eat Lunch at Victoria Square
Visit Oozells Square & Ikon Gallery
Visit Birmingham Museum and Art Gallery
Visit Centenary Square
Read a Book at The Library of Birmingham
Visit Roundhouse
Explore Gas Street Basin & the Canals
Visit the Jewellery Quarter
Enjoy a Night Out
Shoot Some Photography
Go Shopping
Visit the Birmingham Back to Backs
Visit Yorks Cafe & Coffee Roasters
Go In Search of the Red Lamp
Visit the Meat Market
Play an Escape Room
-Things to Do in Birmingham-
Click here to learn a bit more about us. If you want to know more about Bumper, our camper van, click here. Please consider following us on social media.
If you want to keep up with our travels, please subscribe to our mailing list. We won't spam you. We'll only be in touch with exciting news and new stuff!